The
Black-Eye Galaxy
is a large spiral galaxy located about 17 million light years away from the
human
home galaxy, the
Milky Way
. The galaxy is named after the large dark band that is found along the eastern edge.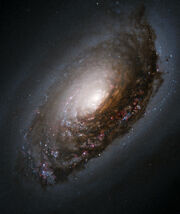 The galaxy is home to a species of Near-Humans known as the
Moranumas
. The galaxy is one of very few with a cleared
SuperSpace
route from the Milky Way, which allowed for the arrival of Humans.
See Also...
Edit

Ad blocker interference detected!
Wikia is a free-to-use site that makes money from advertising. We have a modified experience for viewers using ad blockers

Wikia is not accessible if you've made further modifications. Remove the custom ad blocker rule(s) and the page will load as expected.